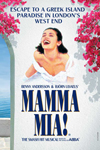 Mamma Mia! Until 1st September
på Prince of Wales Theatre
Pris fra 631 kr
Mamma Mia, en av verdens mest populære musikaler, må oppleves i originalutgave i London. ABBA skrev musikken og du bestiller billetter til Mamma Mia her!
Mer enn 40 millioner verden over har tapt sitt hjerte til rollefigurene, historien og musikken som gjør MAMMA MIA! til den ultimate gladforestillingen!

Forfatter Catherine Johnsons lyse og lystige historie finner sted i et gresk øyparadis. En kvinne på leting etter sin far får tre menn fra morens fortid tilbake til øya de var på for mer enn tjue år siden, kvelden før hun skal gifte seg.

Med stor fortellerglede drives den sjarmerende historien om kjærlighet, latter og vennskap frem gjennom ABBAs tidløse sanger, og gir publikum en fantastisk opplevelse kveld etter kveld. Her får du 27 av ABBAs mest kjente sanger, blant annet Dancing Queen, Knowing Me Knowing You, Super Trouper og Mamma Mia.

Ingen andre musikaler har flere oppsetninger internasjonalt ennABBAs MAMMA MIA!, som er verdens mest populære forestilling!


Andre "feel good" musikaler som kan anbefales på det varmeste: We Will Rock You.

NB: Fra September 2012 skifter Mamma Mia teater til Novello Theatre i London. Billetter kan købes HER!

Andre musikaler i London som har musikk skrevet av verdenskjente solister eller grupper: We Will Rock You - The Lion King - Thriller & Jersey Boys.
Les mer om
Mamma Mia
på Broadway i New York!
"Very nice show! Good music with good performers (musicians and actors/singers). Sound level good (i.e. loud but not too loud). Very professional, of course. Went there with my wife and 14-year old daughter and we had a wonderful time together."

Kjell Arne, Oslo
"Å se Mamma Mia var en opplevelse for livet for to voksne mammaer med to tenåringsjenter på tur! Et fantastisk teater! Det var veldig greit å bestille billetter på forhånd, vi kunne gå rett inn og de ansatte var meget hyggelige og behjelpelige med å vise oss hvor vi skulle gå for å finne våre sitteplasser. Kan virkelig anbefale å bestille billetter på forhånd, og forestillingen var over våre forventninger!"

Hilde, Arendal
"Jeg og venninen min var i London i vinterferien og så på Mamma Mia! Må være den beste musikalen, fantastisk! Vi begge elsket musikalen! planlegger å dra ned i igjen i sommer og se den. anbefaler sterkt! for en fantastisk opplevelse! Venninen min har sett de fleste musikalene i London og sa at Mamma Mia var den beste av de alle! Synes selv den var bedre enn filmen!!"

Maria, Haugesund
"Supert å bestille billetter på forhånd. Ingen kø. Showet var helt fantastisk. Det må oppleves."

Ingvild, Tverlandet

"Absolutt å anbefalle! En fengene og fin musikal, med flinke skuspillerer og sangere!"
LK, Oslo
"Mamma Mia ble en stor opplevelse for min fru og meg. Flinke og morsomme skuespillere samt flott musikk gjorde forestillingen til en fin opplevelse. Bestilling av billetter og organiseringen ved ankomst teateret gikk raskt og effektivt. Vi sitter igjen med gode minner og kan på det varmeste anbefale LondonMusikaler og forestillingen."
Ottar, Bodø
"Vi hadde ein kjempe flott kveld på mamma mia.Atmosfæren og stemning var heilt topp"
Jens, Bryne

"Mamma Mia showet var helt fantastisk!! Nydelige lokaler der en hadde god oversikt uansett hvor en satt. Servicen fra LondonMusikaler.no var også fortreffelig:-)"
Sande, Bergen

"Vi er en familie på 5 stk. Vi hadde bestilt med mat på Planet Hollywood før forestiliingen. Dette var et topp opplegg, og musikalen var helt fantastisk. Stor stemning og vi hadde alle en fantastisk kveld "
Geir, Rissa

"Flott totalopplevelse med middag på Planet Hollywood før forestillingen. Alle var vi enige om at dette hadde vært en opplevelse utenom det vanlige - flinke sangere, dansere og et fengende show av samtlige "
Arnt-Harald, Trondheim

"Forestilla Mamma Mia må oppleves. Det var bare helt TOPP "
Marlaug, Kyrksæterøra

"Mamma Mia er alltid en god kveld på byen, men denne gangen klaffet det ikke. Flesteparten av sangerne/skuespillerne levde ikke opp til forgjengerne sine - Sam var en fryktelig sanger og Sophie var heller ikke noe å skryte av. Pepper var fantastisk, men han har uheldigvis bare en liten rolle. Rosie og Harry fortjener også litt skryt "
Anette, Sarpsborg

"Vi var 3 venninner som var i London på en langveekend. Bestilte og kjøpte billetter på forhånd. Printet ut "bookingen" av Mamma Mia. Vi fikk en fantastisk opplevelse. Flotte og dyktige skuespillere. Dette må bare oppleves "
Audhild, Bergen

"Vi var 2 voksne som dro på Mamma Mia med våre døtre på 8 og 10 år. Det var en helt fantastisk opplevelse. I pausen ser datteren min på meg å sier det er vel ikke slutt ennå mamma. Da forstod jeg at dette var veldig kjekt. Så nå er dette blitt en årlig tradisjon med shopping og Musikal, så vi kommer igjen neste år "
Siri, Ålgård

"Jeg har sett Mamma Mia i London 3 ganger tidligere. Dette var den beste forestillingen "
Olav, Oslo

"Veldig bra musikal. Flott forestilling, fantastisk performance, ser den gjerne igjen "
Kenneth, Røyneberg

"Mamma Mia! For en musical!!! Fantastisk flott oppsetting som ga oss gåsehud. God stemning og flinke aktører. Veldig kjekt og tidsbesparende å bestille billettene hos LondonMusikaler.no på forhånd. Slapp kø ved inngang "
Else, Porsgrunn

"Meget flott opplevelse. Kan anbefales "
Arne, Oslo

"Mamma Mia på Prince of Wales Theatre was great experience. The cast made an excellent performance and with an energy that was almost like electricity, you could feel it. We enjoyed ourselves very much and I would go as far as to say it is the best I have seen of this genre in my life which is already a long one (I am 84)"
Gunnar, Sandborg

"Booked tickets through London Musikaler to see Mamma Mia and the service could not have been better. The show is fantastic and is a "must see"
James, Drammen

"Syntes Mamma Mia var fantastisk. Vi satt på tredje rad og fikk en utrolig nærhet til artistene. Flotte stemmer og flott skuespilleri. Veldig bra avslutning etter at selve musikalen var ferdig, flere av sangene ble sunget av hele ensemblet og med tilhørende koreografi"
Synnøve, Stavanger
Mamma Mia! Until 1st September Anmeldelser
"A GLORIOUS EVENING OF FUN!"
Daily Mail
---
"AN IRRESISTIBLY ENJOYABLE HIT! SHEER HEAVEN!"
Daily Telegraph
---
"INFECTIOUS THEATRICAL ENTERTAINMENT!"
Financial Times
---
Mamma Mia! Until 1st September Pressemelding
Night after night, audiences are having the time of their lives at MAMMA MIA!. Catherine Johnson's sunny, funny story of love, laughter and friendship has been thrilling London audiences for over 10 years. More recently ...


Les mer
Informasjon om sted
Informasjon om show
Kvelder
Monday to Thursday and Saturday 7:30pm - Friday 8:30pm
Matiné
Friday 5pm and Saturday 3pm
Bestilling til
2012-09-01
Spilletid:
2 hours 45 minutes
Veiledning
Veiledning
(2mins) Take Coventry Street and the theatre is be past the London Trocadero on your right.

Se på et kart