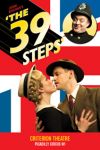 The 39 Steps
på Criterion Theatre
Pris fra 156 kr
I komedien 39 Steps i London får du oppleve et stykke av Hitchcock som aldri tidligere er blitt satt opp. Dette er ingen triller, kun masse latter. Billetter kjøper du her til reduserte priser.
John Buchans THE 39 STEPS – som ble filmet på minneverdig måte av Alfred Hitchcock i 1935 – er tilrettelagt for scenen på en nervepirrende måte.

Ingenting er utelatt i denne hysterisk morsomme og spektakulære versjonen av Storbritannias mest spennende thriller – blant de legendariske scenene finner vi jakten ombord på Flying Scotsman, flukten på Forth Bridge, det første krasjet med to fly som noen gang er sett på en scene, og finalen som (nesten) trosse døden på London Palladium.

Med fire skuespillere som spiller minst 139 roller, er THE 39 STEPS det mest forbløffende teaterkunststykket i år.
"Dette var en superb komedie framført av glimrende skuespillere. Noe av det beste jeg har sett i det siste. England mestrer teaterkunsten til de grader. Anbefales på det varmeste!"
Beatriz, Bergen
"Dette er en forestilling alle burde få med seg! Virkelig noe av det beste jeg har sett. Både jeg, som er teaterinteressert, og noen av mine mindre interesserte venninner kunne kose seg med forestillingen, så det er virkelig noe for alle. Skuespillernes komikk og timing er upåklagelig. Så absolutt å foretrekke til fordel for større produksjoner som "the lion king"."
Kari, Kristiansand
"Utrolig morsomt og actionfylt forestilling! Tenk dere et fartsfylt action-eventyr flyttet til teaterscenen, det har de faktisk fått til, og det hele er krydret med herlig sprø humor, ikke kjedelig et sekund! Alfred Hitchcock hadde vært stolt! :D"
Geir, Oslo
The 39 Steps Anmeldelser
"Exactly the thing the West End has been waiting for"
The Observer
---
"A joyous version of the Hitchcock classic"
The Sunday Times
---
Informasjon om sted
Informasjon om show
Kvelder
Monday to Saturday 8pm
Matiné
Wednesday 3pm, Saturday 4pm
Bestilling fra
2014-04-18
Bestilling til
2014-10-18
Spilletid:
1 hour 40 minutes
Veiledning
Veiledning
The theatre can be seen on Piccadilly Circus next to the Eros statue.

Se på et kart