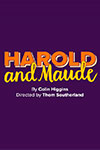 Harold and Maude
på Charing Cross Theatre
Pris fra 622 kr
Harold and Maude is an idiosyncratic fable told though the eyes of the most unlikely pairing: a compulsive, self-destructive young man who attends funerals for entertainment and a devil-may-care, septuagenarian bohemian.

Through Colin Higgins' tale, we experience a way of seeing the world that looks directly into darkness, stresses our need for humour, the freedom to create, and kindness, while concluding that cynicism and despair are dead ends. Equal parts dark comedy and romantic innocence, Harold and Maude dissolves the line between darkness and light along with ones that separate people by class, gender and age.

Harold and Maude will be directed by Thom Southerland, and star Sheila Hancock.
Informasjon om sted
Informasjon om show
Bestilling fra
2018-05-11
Bestilling til
2018-05-12
Spilletid:

Veibeskrivelse

(1 min) The theatre is under Charing Cross station; it can be accessed at Cravens Passage just off Villiers Street

Se på et kart